Production Management
Cutting-Edge Technology
to Monitor the Production Process
WrkPlan's integrated ERP software plans and maintains the production sector, providing constructive results throughout its operation. Enterprise Resource Planning ensures better efficiency and performance in a more stable and accelerating manner.
Manages facility operations from production to payroll.
Can able to track multiple departments and provide quick solutions
Strong end-to-end control of operations in a detailed and precise manner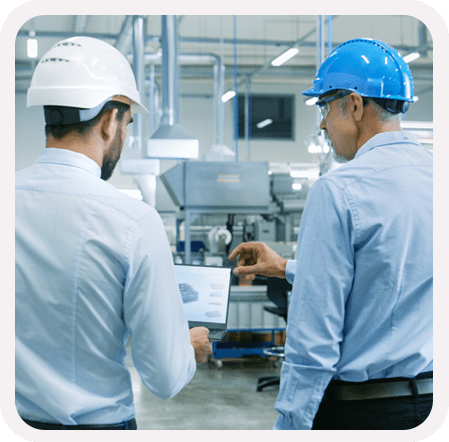 WrkPlan for Production Planning
Upgrades the Planning Process
Orchestrate Supply with Demand
Manages the Inventory Operations
Analyze System Performance
Observe & Evaluate Quality Control
Manages Production Process Efficiently with WrkPlan ERP
The ERP software deployed by WrkPlan for production management can blend very smoothly with the existing setup, and process the overall operation with ease.
Production Planning

The entire planning gets performed with just a few inputs. From choosing the right BOM to the routing process, WrkPlan marks the start of the production process seamlessly and ensures that nothing is left out.

Assembly point

Often, finished goods require an assembly point to create a product set. WrkPlan delivers a simple interface where assembling the right items into a set can be done and moved to the stock location for further processing.

Routing

A detailed routing scope in WrkPlan can be the best way to move forward in the production process. With every step explained in detail, the system assures, that the flow is well prepared before it moves to the people on the shop floor.

Purchase Requisition

WrkPlan's ERP software for manufacturing sends direct requisitions from the shop floor if any material is going out of stock during the production execution process. Based on requisition, purchase items can be easily transferred to the shop floor location.

Quality Check

Maintenance functions can depend a lot on the quality of the materials and ERP plays a vital role particularly in this section. With the help of ERP software for manufacturing, the quality analysis can be tracked through well-functioned data that get created over a specific period.

Multi-Level BOM

For complex manufacturing processes, there is an involvement of subassemblies where Multi-level BOM is a prerequisite. WrkPlan enables a hierarchical structure for both single and multi-level BOM that includes the codes, quantities, description, and cost and prevents any error in preparing the production formula.
Manage Your Finances Easily with Wrkplan
Join Us Today for Streamlined Accounting, Payroll, and Inventory Solutions that Transform Your Business.