Managing Financial Reports
Accounting applications with user-friendly financial reporting instruments
Utilize WrkPlan GST-Compliant Accounting Software to transform data into knowledge. View dashboards, reports, and charts for all your inventory, receivables, and payables. Use the information in your report to draw conclusions and draft solid, current business plans.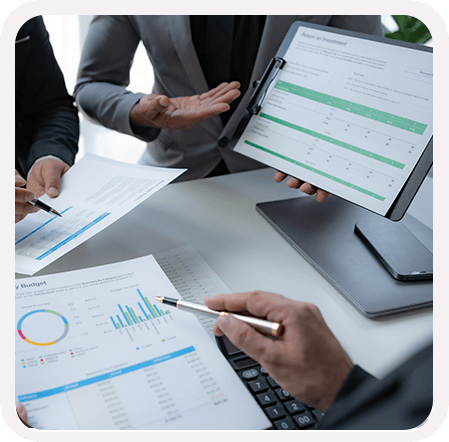 WrkPlan generates and shares detailed financial reports with accuracy and zero errors.
Understand your business's financial position by analyzing reports like P/L Statement, Customer Aging, Balance Sheet, and many more.
Elevate Your Business with WrkPlan
To make financial reports more comprehensive and updated, WrkPlan offers all the latest features to make the reports more detailed and analytical.
Obtain information from the dashboard.

View the specifics of your earnings and expenses. The dashboard provides you with quick access to your total receivables, sales, top expenses, and more.

Make wise business choices.

Business reports don't have to be created at the end of the month. Create reports for your company's profit and loss, balance sheet, and cash flow statement whenever you need them, then analyze the information to create future business plans.

Inform your team of your progress.

You can easily generate business reports with WrkPlan, then safely distribute them to your team. Obtain reports-only access for your collaborators, export reports to PDF, or print hard copies to distribute in person.

Improve data organization with reporting tags

Selling goods through various cost centers? By assigning a reporting tag to all pertinent transactions, you can create unique reports for each of these areas. Additionally, you can link tags to your contacts, products, and reports to filter them based on the tags.

Adapt business reports

You can tailor your business reports with WrkPlan by setting date ranges and selecting the columns to display.

Analyze and Execute

Comprehensive and detailed reporting helps the company to analyze its financial position closely. Once the scrutiny is done, the managers can decide the next step forward and execute necessary plans simultaneously.
Detailed and Organized Financial Reports with WrkPlan
Get all your financial reports and insights and manage them according to your requirement with WrkPlan's GST accounting software.
Profit & Loss Statement

Evaluate the financial health of the company with the company's profit & loss statement.

Balance Sheet

Does your company have any financial obligations? Analyze how your company is performing over time.

Cashflow Statement

Track the company's spending, maintain the cash balance, and improve several short-term planning through the software-generated cash flow statement.

Customer Agings

Now find potential issues during the company's cash flow with the customer aging report. Release the due payments and avoid having bad debts with a maintained customer aging report.

Vendor Aging

Know the balances that are due to the vendors and keep track of the payments made or due.

Ledgers

Get your trial balance done and have a completely structured income and expenses accounting through WrkPlan software.

Bank Reconciliation Statement

Create your BRS and track your receivables, understanding the position of your account, and other benefits.

General Ledger Report

Generate the company's financial statements like balance sheets and income statements through our general ledger report feature.