Invoicing
Generate Your Mandatory E-Invoice with
WrkPlan
Create GST Compliant e-invoicing with multiple features and benefits for taxpayers and businesses in seconds. Automate your process and keep a robust way of doing business with the WrkPlan e-invoicing system.
Flexible

Directly upload your JSON file for e-invoicing without any hassle.

Accessible

Users can access their portal from anywhere and across any device.

Comprehensive

E-invoicing provides detailed information on the various classification of transactions & analysis of a report.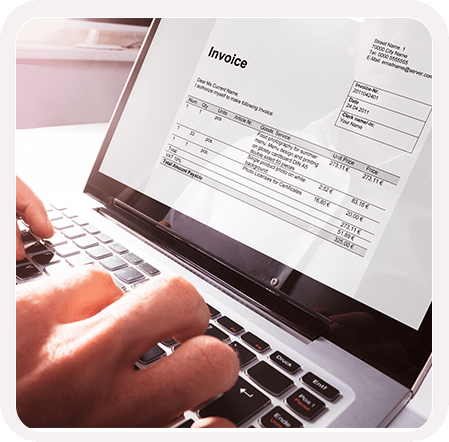 E-Invoicing: For A Smarter Business
Now outsmart your competitors with an electronic invoicing feature. It takes less time to generate and even lesser to process!
How WrkPlan E-Invoicing
makes a Difference?
Get the most out of WrkPlan's e-invoicing feature for a better and streamlined business process.
Instant Invoicing

Get a faster invoicing process through the e-invoicing feature without much manual intervention. With WrkPlan, generate e-invoices automatically with printed IRN & QR code for flexibility.

Generate E-Way Bill & E-Invoice

Our e-invoice system is designed in such a way that it integrates with the GSTN and the e-way bill system. WrkPlan utilizes this facility and creates e-way bills alongside the e-invoice in situations where it is mandatory to present both.

Online Cancellation Of E-Invoicing

At times, invoices that already generated an IRN require to be canceled. WrkPlan allows the user to perform the task and notify the IRP of the reason behind the cancellation.
Quick Business Processing
Using WrkPlan's e-invoicing process would save both you and your customer's time through a quick and fluent invoicing structure. It will eliminate multiple unnecessary steps and thus completes the entire procedure.
Cost Effective System
Time is money! So, we ensure that you do not waste time by using templates or emailing the pdf or money by paying for paper or postal fees.
Lack of Errors
The absence of manual inputs and full automation removes any possible errors or typos during invoicing.
Easy Access to Your Invoices
WrkPlan's e-invoicing feature generates invoices with an overview of the transaction through automated reports and analytics. These documents can be accessed from anywhere and across any device for the suitability of the user.
Detailed Reports
WrkPlan generates a comprehensive e-invoice report, having a view of the complete transaction status. You will receive the entire details of the status of the invoices viz., generated, pending, canceled, etc.
E-Way Bill Generation
Create effortless e-way bills with a click with WrkPlan's invoicing software. Generate instant e-way bills in a flash and save valuable time.
File GST Returns Flawlessly
Now with an easy interface, filing GST returns in WrkPlan is quick and error-free. No more hassling with complex accounting rules. Stay compliant and updated with WrkPlan GST accounting software.